shoemaking powered by faery dust & tea
Faerysteps (previously fairysteps) make fairytale boots and shoes in a woodland workshop situated on the edge of Dartmoor. It's here that we make every part of the footwear and accessories, one careful step at a time, using top quality leathers, a trio of vintage sewing machines and just 2 pairs of hands. Established in 2002 the workshop continues to thrive, despite the very obvious lack of Elves.
Update! New stock available from April 2017
We are busy, busy, busy... snipping and stitching away, getting prepared for making oodles of scrumptious faery shoes for all our wonderful followers. We've picked our most popular, much loved styles from our collection. Colours and sizes will vary according to the season and artistic inspiration. Shoes and boots made and finished now will be trickled into the shop one pair at a time at 7pm UK time, from mid April 2017. I will preview each pair a day in advance of listing. No custom orders or reserves I am afraid... and as much as I love you all, strictly no begging allowed :)

Do watch instagram or facebook to see sneak peeks inside the studio. Search @faerysteps
limited edition footwear
We specialise in creating unique, often one of a kind, footwear and accessories. Inspired by the magical place in which we live and work, Faerysteps boots and shoes are wearable works of art. It's what we excell at, being able to create footwear that not only look and feel sublime, but, are also part of a limited edition few.
I operate a 'first come, first serve' policy, and do not reserve items in advance of listing. This keeps everything nice and fair for all. I am a great believer that Lady Fate will always bring us what we need, so do keep checking back to see if your dream pair turns up. Alas, we no longer offer custom made to order shoes. Faery dust was getting lumpy, wands were breaking, wings were going limp, mummerings of overwork among the faeries was getting louder... thankfully, now that we have switched to STOCK ONLY peace is restored. Each pair is a combination of inspiration, heart and hands.
Leathers
Our specially selected leathers are top quality, smooth and supple with a slightly antiqued pull up finish. They have natural scuffs and variations across the hide, enhancing their already unique natural beauty. Some are repeatable, many are 'limited editions'. Your shoes may well be the only ones in a particular colourway. It's all part of what makes Faerysteps so special.
What does barefoot comfort mean?
We believe that your shoes should feel just like slippers, all day, every day, and our shoes do just that. With all leather interiors your new shoes will naturally give with wear, gradually moulding to your feet and offering glove like comfort.
We use a durable, highly flexible, cushioned, non slip soling made by the Italian company Vibram. There is no heel, just like Mother nature intended, with the soling offering a good level of bounciness and protection. When the time comes your shoes can be resoled by your local cobbler, thus extending the life of your beloveds and avoiding landfill sites.
Delivery & Returns
Postage costs are calculated at checkout, but typically shoe orders are charged at £8.50 per pair UK with OVERSEAS destinations at £16.50 per pair. Orders are sent within 5 working days of purchase with a dispatch notification sent at time of posting.
We accept returned products within 14 days of date of delivery.
All items must be returned unworn / unused and in the new condition in which they were received, in their original packaging. Return to: Faerysteps, Northridge farm, Moretonhampstead, Devon, TQ13 8QB, England. To log a return please contact us with your name and the date of order.
Please note: Refunds EXLUDE the initial (if applicable) and return postage costs. Refund is not guaranteed and is subject to our review of the returned product. Customers are responsible for making sure that parcels are carefully packaged and insured should they become lost. International customers are responsible for any customs charges that may be incurred, either way. Please mark international returns clearly as 'Returned Goods'.
Behind the scenes
The faerysteps studio is where I spend my days, snipping and stitching away, always with a cup of tea at my elbow. Being a 70's child I grew up with polaroids, so instagram is like childhood all over again. It is so quick I use it on a daily basis to share all my latest makes and snippets from home. Follow @FAERYSTEPS for studio shots & stock updates.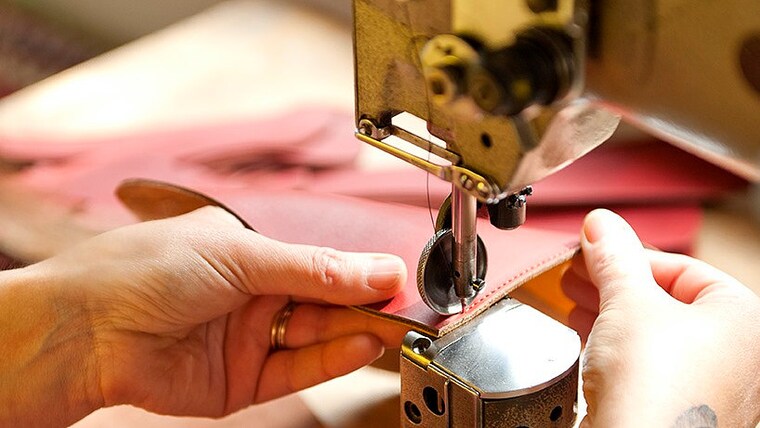 { no elves are exploited during the making of faerysteps products }